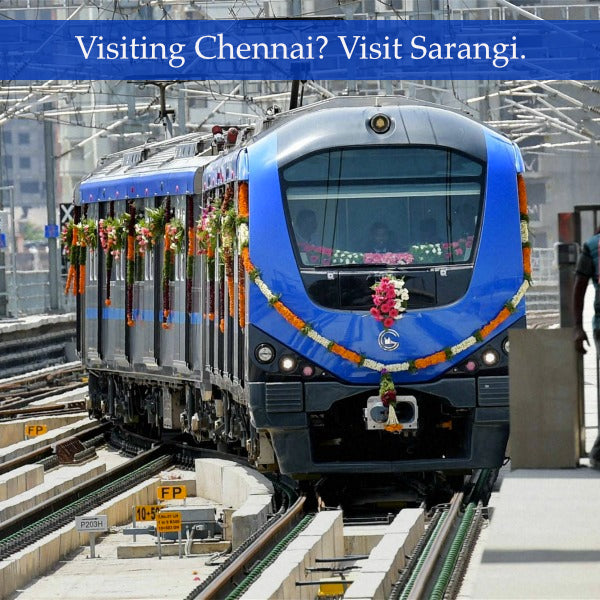 6 reasons to take the Chennai Metro when visiting Sarangi
Are you visiting Chennai?
Generally known as a keeper of South Indian traditions, the city's progressive and innovative initiatives will not fail to impress. Take for instance the metro rail, a favorite for its numerous fascinating initiatives. We suggest you take the metro when visiting Sarangi. 
Here's why:
Read on Rails: look around nooks and corners and chances are you might find a book, which is yours to read. Introduced by Samyuktha Nair, as a not-for-profit initiative, the main aim behind it is to promote reading while commuting in the metro rail. Surprise:

Each book has a "

Read On Rail

" label and a message for the one who has picked it up.

Free bicycle ride: Ride to and back from the metro stations on cool bicycles for free. This way commuters contribute to the environment, help in reducing traffic congestions and pollution. At the same time, are healthier and fitter.
The trains have gone green. The braking system in the trains generates power that is used by the metro rail. Each train can generate a third of the power that it utilizes to run. That's green, efficient, and on track (pun intended).
Reusing water: the condensed

water from the air conditioners

is reused for multiple purposes. The city does face acute water shortage, especially in the summers. This is the Metro Rail's contribution to the city.

Motorbikes and ebikes: Soon, the Chennai Metro rail will begin motorbike and ebike rentals, which will be a great option for

last-mile travel

for commuters. You will be able to pick up a motorbike or ebike from the metro station and drop it off at a dock. Similarly, pick it up from a dock to reach the station.

Contactless smart cards

: The metro rail will soon bring in scanners that will make it much easier for commuters to pass through detectors. Passengers will not have to scan the card manually; the detectors will scan it through the pocket or bag where the card has been kept. Tech is all about making life easier and more comfortable, and this contactless smart card system will do that well.
This video guide to Sarangi's Chennai store location is <60 sec