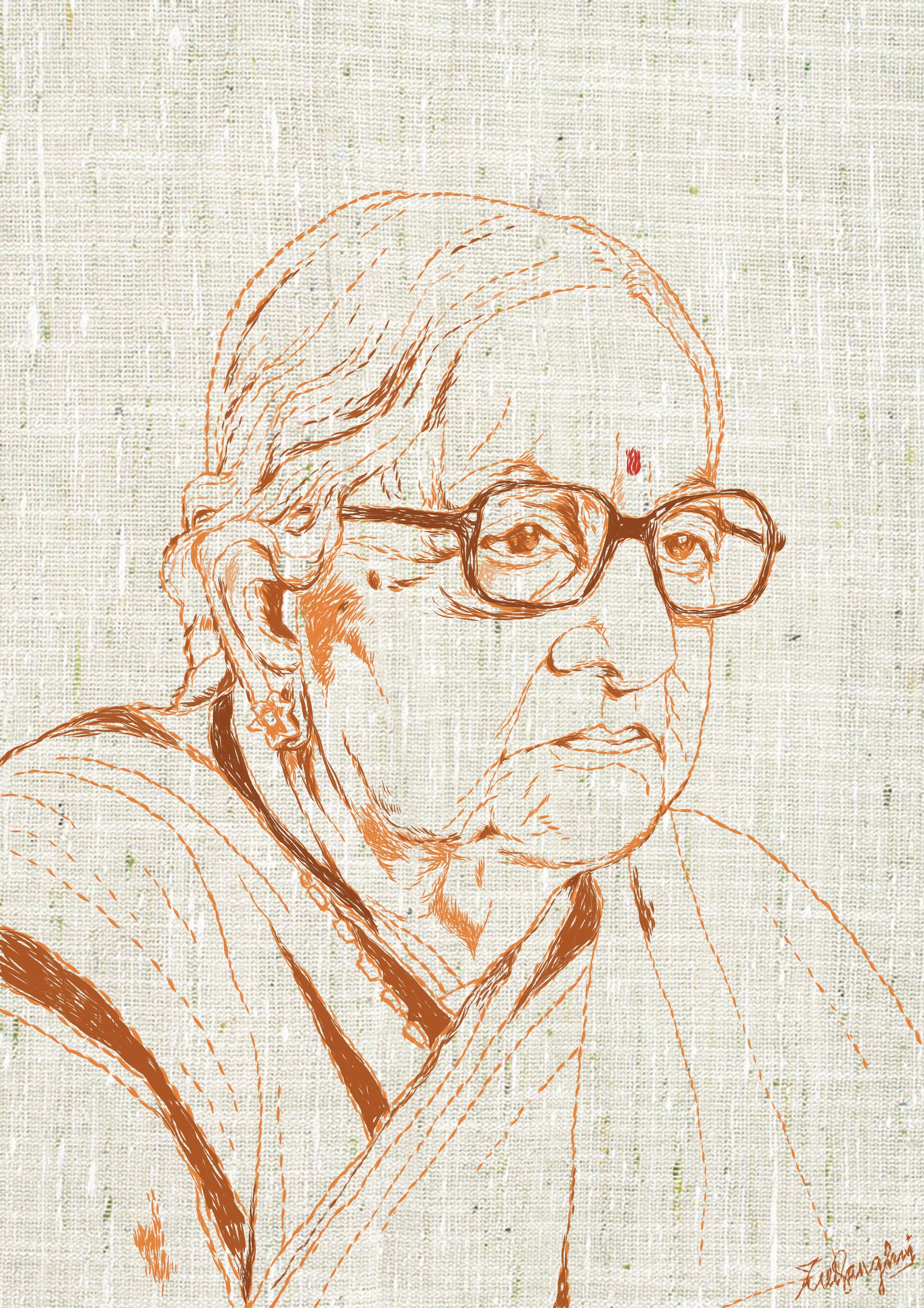 Kamaladevi Chattopadhyay – the Torchbearer of Indian Crafts
Writer. Social reformer. Freedom fighter. Feminist. Actor. Politician. Proponent of handicrafts. Promoter of performance art. So many powerful roles would seldom be used to talk about one single person.
We're talking about Kamaladevi Chattopadhyay (1903 - 1988).
A relatively unknown and forgotten figure, she was more than a sum of her achievements. Most remembered for her contributions to the Indian independence movement and for the upliftment of socio-economic conditions of Indian women, she was the driving force behind the renaissance of Indian handicrafts and handloom post-independence. So are her contributions to theatre and performing arts - commendable.
Illustration by Zeel Sanghvi https://www.instagram.com/sanghvi.zeel/
It was Kamaladevi's impassioned belief in the artistic heritage of India, that India owes the revival of its handicrafts post-independence. With exceptionally varied contributions to different spaces of socio-cultural-political spheres in India from 1920 to the late 80s, she, above all, pioneered a range of feats.
She was among the first to break orthodox society rules against widow marriages. (1the 920s)

She was the first woman in India to run for a legislative seat. (1926)

She founded the All-India Women's Conference (AIWC) and became its first Organizing Secretary. (1927)

She was the first Indian woman to be arrested. (1930)

She was among the first women to participate in the Salt Satyagraha.

Hers was the first legal divorce granted by the courts of India. (1933)
"Perhaps the most august woman on the Indian scene today. Firmly, Indian and therefore universal, highly sophisticated both in sensibility and intelligence, she walks with everyone, in city and country with utter simplicity."
(Author Raja Rao introduced Kamaladevi Chattopadhyay memoirs, Inner Recesses Outer Spaces, 1986)
Her independent streak
Kamaladevi Chattopadhyay's is a story that didn't have a precursor. With passion, dedication and bold stances, she was the beginner. She had done things that were unheard of for a woman in her days. Culture, politics and arts, she brought it all together under her mission and vision.
In the freedom movement…
…she was one of the most prominent, in the Congress party and later in the Socialist party. Kamaladevi was drawn into freedom struggle in the early 20s on call of Mahatma Gandhi. She returned to India from London in 1923 to join the Seva Dal, a Gandhian organization set up to promote social upliftment.
Salt Satyagraha
It was Kamaladevi who urged Mahatma Gandhi to let women participate in the gatherings of marchers. Kamaladevi was charged with violation of the salt laws and sentenced to a prison term. She entered the Bombay Stock Exchange to sell packets of 'freedom' salt and was sentenced to a prison term for violation of the salt laws.
During World War II
When World War II broke out Kamaladevi was in England, and she immediately began a world tour to represent India's situation to other countries and drum up support for Independence after the war.
Feminism and women's rights
In a number of her writings, Kamaladevi has highlighted the challenges faced by women in India and elsewhere. Her views on women's equality continue to hold true in our current times too. She pushed for a uniform civil code to promote gender equality, worked for the cause prevention of child marriage. Her commitment in the freedom movement saw her in charge of Seva Dal's women's department that recruited and trained women of all ages across India to become voluntary workers.
She attended the International Alliance of Women in Berlin in 1929 and became aware of how race and national boundaries might become obstacles to the unity of women. She was a key figure in the international socialist feminist movement. Her efforts towards women's education laid the foundation initiative for the Lady Irwin College in New Delhi.
As an actor
Kamaladevi's husband, Harindranath, was a prolific poet, playwright, and actor. Along with him, she performed in a number of folk theatre performances and regional drama, again one of the first, at a time when women as actors weren't considered respectable. She acted in the first Kannada silent film, Mricchakatika (Vasantsena) in 1931, Bikhre Moti in 1935 and the Hindi film Tansen in 1943, among others. Theatre was, she said, "like a crusade that drew its life-force from its connection with people's everyday lives."
Her involvement with organizations
She founded the All India Women's Conference (AIWC) – a national organization of repute that worked for legislative reforms under her being the first Organizing Secretary. She was the moving spirit behind Delhi's Sangeet Natak Akademi; she founded the city's Theatre Craft Museum; she was the chairperson of the National Centre for Cultural Resources and Training, the Children's Book Trust, and the Dolls Museum.
An adventurer
Jasleen Damija, Indian textile art historian and a colleague of Kamaladevi writes about her free willing soul in an article, Remembering Kamaladevi, "She was a real adventurer traveling throughout the world and learning at every step. She met all the great leaders of her time and attracted them by her charismatic personality. She met the rulers and also the opposition. She talked of meeting Haile Selassie and having coffee with a rebel Eritrean. She described walking down the large hall to shake hands with the King of Morocco while her Chamba sandal squeaked all the way, to discuss their strategies of resistance and encourage them in their struggle against the French colonists. She was very supportive of the Tunisian freedom struggle office in exile, which functioned from Delhi. She traveled not only in Europe and USA but also Japan and China, traveling to China when it was under attack."
A prolific author
Kamaladevi Chattopadhyay's wide range of books points to her articulated interests in politics, society, women and the arts and crafts.
The Awakening of Indian Women. Madras: Everyman's Press, 1939.

Towards a National Theatre. Aundh Pub. Trust, 1945. Socialism and Society. Bombay: Chetana, 1950.

Indian Handicrafts. New Delhi: Allied Publishers Pvt. Ltd., 1963.

Carpets and Floor Coverings of India. Bombay: Taraporevala, 1969.

Indian Carpets and Floor Coverings. New Delhi: All India Handicrafts Board, 1974.

Handicrafts of India. New Delhi: Indian Council for Cultural Relations, 1975.

The Glory of Indian Handicrafts. New Delhi: India Book Co., 1976.

Indian Embroidery. New Delhi: Wiley Eastern, 1977. Tribalism in India. Leiden: Brill, 1978.

The Glory of Indian Handicrafts. New Delhi: Indian Book Co., 1978.

Indian Women's Battle for Freedom. New Delhi: Abhinav Publications, 1983.

Inner Recesses, Outer Spaces: Memoirs. New Delhi: Navrang, 1986.
Awards and recognition
1955, the Padma Bhushan of the Government of India.

1966, the Ramon Magsaysay Award for Community Leadership.

1974, the Lifetime Achievement Award of the Sangeet Natak Akademi, the Ratna Sadasya.

1977, the UNESCO Award for promotion of handicrafts.

1987, the Padma Vibhushan of the Government of India.

Charles Eames' Award for contributing to the Quality of Life in India.
"Kamaladevi Chattopadhyay was perhaps the most effective, exemplary constructive worker that was 'thrown up' by the pre-independence decades. It is conventional to suggest that she was influenced by Gandhi. The Gandhian touch or Gandhian political economy was certainly the mode of the era, but she was not one of those who directly took the mantra or initiation from Gandhi. Hers was the strength of personal struggle and of course the 'inheritance' of the spirit of revolution and rebellion that her mother inculcated into her".
(Devaki Jain)
A spirited life
The beginning
Kamaladevi Chattopadhyay was born in a Saraswat Brahmin family on April 3, 1903, in Mangalore, Karnataka. Kamaladevi was the youngest of four daughters. She was first married in 1917, at the age of 14, but was widowed in two years. Later, while studying at the Queen Mary's College in Chennai, she met Harindranath Chattopadhyay, whom she married when she was 20 years old.
Inspiration
A lot of her values and attitude that guided her life and work could be attributed to her upbringing: her father was the district collector of Mangalore, an educated mother who belonged to an aristocratic family, and her grandmother who was a scholar of ancient Indian texts. A great deal of Kamaladevi's bold attitude came from the strength and wisdom of these women in her life.
After her father's death, at the age of seven, she grew up in her maternal uncle's home who was a prominent social reformer. Here she was surrounded by political people such as Mahadev Govind Ranade, Gopalkrishna Gokhale, Sir Tej Bahadur Sapru and women leaders like Ramabai Ranade and Annie Besant that made her an early enthusiast of the Swadeshi national movement.
Her inspiration to compete for a seat in the Madras Legislative Assembly came from the Irish-Indian suffragette, Margaret Cousins, the founder of All India Women's Conference (AIWC).
Education
She studied ancient Sanskrit drama tradition of Kerala – Kutiyattam, from Padma Shri Mani Madhava Chakyar – a great authority of Abhinaya, at his home.
After completing her schooling in Mangalore, she joined Queen Mary's College in Madras. It is here that she met Suhasini Chattophyay, the younger sister of her future husband, Harindranath Chattopadhyay. Kamaladevi joined her second husband Harin to London, where she pursued a diploma in Sociology from Bedford College, University of London. It was in London, that she got to know about Mahatma Gandhi's Non-Cooperation Movement in 1923. She returned to India to join the Seva Dal – an organization that worked towards social upliftment.
"Among the architects of modern India few have been so broadly effective as Kamaladevi Chattopadhyay… in an era when great traditional crafts and artistry often are submerged by mass production of standardized products, Kamaladevi has led in mobilizing for new generations these ancient skills."
(Citation from Ramon Magsaysay Award for Community Leadership, 1966)
Post-independence craft revival movement in India - Her story of art and craft
Many crafts threatened under the 200-year British rule would have disappeared forever and India's craft heritage would have been lost, if Kamaladevi hadn't championed its cause. She did it in simple and humble ways. Working at the grassroots level, traveling to a number of villages of India, she discovered the challenges faced by craftsmen and crafts. She made friends with craftspeople, involved them in Government sponsored training schemes, formed crafts communities, opened up markets for exports, and exhibitions, and focused on maintaining the ingenuity of Indian handicraft.
Her efforts towards a crafts renaissance in India: She made great efforts at craft-based livelihoods in order to rehabilitate women who were part of Pakistani refugee camps in India. She helped establish institutions and systems to empower artisans and to sustain their crafts: The Cottage Industries Board (CIB), the Indian Cooperative Union (ICU), the All India Handicrafts & Handloom Board, the Cottage Industries Emporium, Regional Design Centres, new experiments through Marketing Clinics in different regions, the Crafts Council of India (CCI), the Crafts Museum, and the National and State Awards, among others. Every year, the CCI holds an exhibition, Kamala, to showcase products created by CCI and its 14 affiliated State councils in collaboration with craft communities. She served as Vice President World Crafts Council.
When appointed the chairperson of the All India Handicrafts Board in 1952, her mission was huge. A new organization, an uncultivated area, displaced and unsettled craftspeople in the aftermath of independence and a partitioned country – her task was enormous.  
"Craft has always been a basic activity in human society, in fact, it is considered more cohesive and permeating in human relationships than even language, for it can penetrate many barriers to communication. Particularly has this been true of the older societies such as those in Asia, South and Central America, Africa and countries like Greece or Spain, where aspects of the ancient cultures still continue to produce powerful impressions that almost seem ageless."
Kamaladevi Chattopadhyay, UNESCO's publication The Arts and Man (Paris, 1969)
Not only in setting up institutions, her contributions in spreading awareness among people about Indian handicrafts are highly significant. She followed Gandhiji in using khadi as a political weapon. She was highly involved in efforts to revive kalahasi kalamkari, poochampalli, Jaipur blue pottery, nandra buti in indigo and toda embroidery among other crafts.
"A thing of beauty has no fear of time".
Kamaladevi Chattopadhyay
Her interests in the arts and crafts were more than just developmental or institutional. Her passion for the crafts was about the aesthetics and about the possibilities that crafts held. She believed that the crafts and arts were an Indian way of life and that we would be proudest if we worked with our own hands.
A proponent of indigenous craftsmanship, Kamaladevi Chattopadhyay's efforts in reviving the handloom and handicrafts of India post independence are seen even today. We see it in the coming together of fashion and handloom. Apart from all the productive dialogues about Indian handicrafts, respectful meeting of Indian handloom and fashion design and socio-economic benefits to artisans, experts are asking poignant questions in response to the needs of our ambiguous present.
In a memorial lecture for Kamaladevi Chattopadhyay titled Can our future be handmade?, Prof. Ashok Chatterjee points at the dwindling and failed state of the institutions that Kamaladevi and her peers had established for the revival and support of Indian crafts. He asked, "It is in this context of opportunity and threat that we pay tribute today to the memory of Kamaladevi Chattopadhyay. Kamaladevi is often called the Mother of Indian Handicraft. Does she then bear some responsibility for the current fate of her children? Did the parent fail the child? Or have we failed Kamaladevi? In these years of transition, how have the skills and values to which Kamaladevi's generation was so powerfully committed grown, matured, transformed, flourished or failed?"
How many Indians are embracing handloom? Perhaps few. What then, can we do to support and promote Indian handloom and handicrafts? Creating a more sustainable, socially and environmentally conscious world is our responsibility, from where figures like Kamaladevi Chattopadhyay left it. Lest we forget those who made it possible for us to appreciate Indian handicrafts today. As President of India R. Venkataraman said,  
"It is hard to prefix the word 'late' to Kamaladevi name, because "her's was, and will always be a palpable presence."