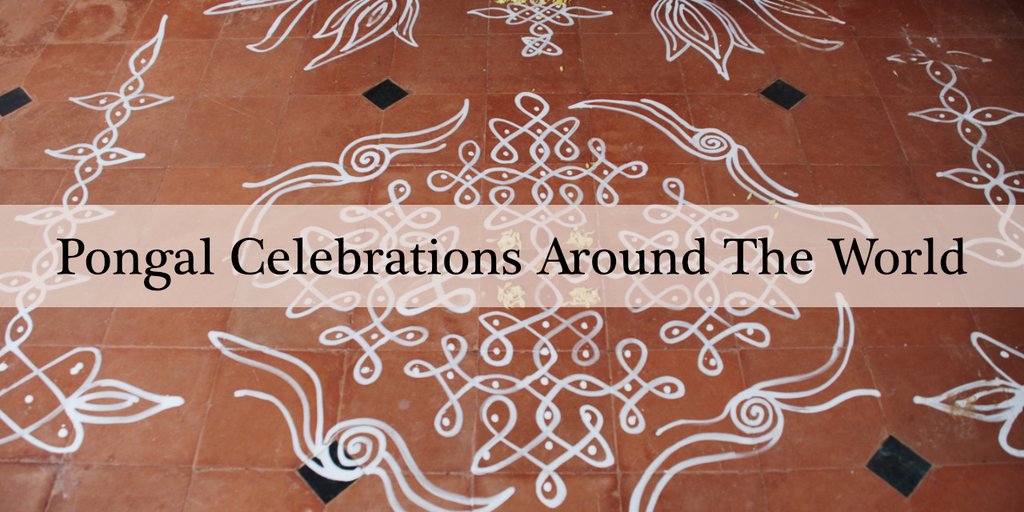 It's Pongal. Here's how the World Celebrates this Festival of Harvest!
We've been enjoying the soft winter winds, the subtle warmth of sunlit mornings and special winter foods these days, here in India. The crops are ripe, the sky overhead is a clear bright blue, and sugarcane fields are ready for harvest - an annual indication of festivities. Here in Tamil Nadu, we're preparing to celebrate Pongal.
Of silk sarees and Kanjivaram-clad women, men in the traditional veshti, banana leafs and sugarcane, special foods such as pongal, rangolis and prayers, Pongal is a special occasion in every manner.
Traditionally, the four-day festival that begins on January 14 marks the beginning of the New Year.
Thai Pongal (Thai - the month in which Pongal is celebrated) being one of the biggest festivals for Tamilians, we whittled down a story of how, not just in India, but Indians as well as people of other nationalities around the world celebrate this festival with pomp.
25 million strong, the Indian diaspora is the largest in the world. Spread across East Asia, the Middle East, North America, South and Eastern Africa, Australia, Europe, the northern part of South America and the Caribbean Islands, Indian diaspora, among them a large number of Tamilian Indians, form an impressive number, such that their festivities and culture have become part of the local culture in many a places.
No matter how far from the land, their people and their roots, Indians and Indian diaspora carry traditions and festivities along with them. Festivals are markers of togetherness among communities, of cultural bonding among communities, of wearing traditional garments (in the case of Pongal, ornate silk sarees for women and veshti for men), of preparing traditional food and remembering the loved ones.
Legend says…
…Lord Shiva had once asked his bull, Nandi, to go to earth and tell the people to have an oil bath daily and have food once a month. However, Nandi mixed up Lord Shiva's orders. Nandi told the people to eat daily and bathe monthly.
This annoyed Lord Shiva and he ordered Nandi to go and help the people to plough their fields, because as a result of Nandi's mistake people are going to eat more and will need more food. Hence the significance of pongal, the dish prepared by boiling rice.
The Journey of the Sun
The day marks the start of the sun's six-month-long journey northwards (the Uttaraayanam). This also corresponds to the Indic solstice when the sun purportedly enters the 10th house of the Indian zodiac Makara or Capricorn. Symbolically, Pongal signifies the gradual heating of the earth as the Sun travels northward toward the equinox.
Nuances of Pongal Celebrations
Pongal is the festival of harvest. Bhogi – the first day – is when people clean their houses, discard the old and unwanted things and buy new things, a sign of new beginnings. The second day, Pongal, is the day of offering thanks to the Sun God. Traditional dishes such as sweet and salty pongal are prepared. Mattu Pongal is day three - a day to offer thanks to the cattle that helps farmers in farming. Cows and buffaloes are decked up and offered prayers. The fourth day, Kaanum Pongal, is the day when families, relatives, friends and communities get together to greet each other and have dinner.
Of course the essence of celebrating Pongal in India is much closer to traditions compared to celebrating it in other parts of the world. Obscured by distance and access to necessary customary items largely dependent on annual visits to their homeland, are Tamilians able to keep the essence of the festival true to traditions when they celebrate it in other countries? Where do they get their sugarcane? Do they have access to objects and articles required for the puja? How early on do the women shop for their silk sarees, blouses and jewelry and wait to wear it all for Pongal? Are they dependent on online shopping for purchasing the necessary things? We take a peep into how Pongal is celebrated in different parts of the world.
In Singapore: Lights, Chakkara Pongal and Kanjivarams
In Singapore, the streets in Little India (a place commonly known as Tekka in the Indian Singaporean community) have been lit up bright and jazzy for a one-month long celebration of Pongal. A series of events have been planned, thanks to the Little India Shopkeepers and Heritage Association.
The highlights include: the lighting that is themed on rangoli fusion designs, banana leaves and Pongal-special food, a Pongal Masterclass where visitors can try their culinary skills by learning to make various kinds of pongal – chakkara (sweet), and venn (white), among other kinds. A Festival Village set up at Campbell Lane from January 10 to 15, is the place where visitors buy spices, décor items, traditional savories and more.
Little India

Month-long Pongal celebrations kick-off in Little India
An Official Pongal Day in Virginia
Early in 2017, Virginian government recognized Pongal as a revered festival for Tamil Indians in Virginia, and officially declared January 14 as Pongal Day – a gesture that holds all promise to reflect the depth of traditions connected to the festival of Pongal. Equating the festival to Thanks Giving in the USA, delegate David Bulova appreciated the Tamil community's contribution to Virginia's socio, economic, political and cultural spheres.
The Hindu reported, "A resolution introduced by delegate David Bulova (D-Fairfax) was approved by the general assembly on February 14, 2017. With the passage of the resolution, the Commonwealth of Virginia has designated January 14 in 2018 and in each succeeding year as Pongal Day in Virginia, said A. Sriskandarajah, legal advisor to the Valluvan Tamil Academy."
And what does that mean for Virginian Tamilians? A holiday on the 14th of January, every year, an opportunity for Tamilians to celebrate and share the rich Tamil heritage, culture, language and history.
David Bulova

Pongal to be official holiday In Virginia State USA
Pongal Day
Closer home – Pongal Celebrations in Sri Lanka
Even though so close to home, little is known about Pongal celebrations in Sri Lanka. However, going by the postal stamps bearing imagery of Pongal rituals and themes, it is safe to say that the festival is definitely one of the more important ones in the country. Sri Lanka Post has, in the past, issued a number of postal stamps dedicated to Pongal: a farmer tilling his farm in the countryside, a couple performing puja, woman making rangoli, and a collage depicting cattle, sugarcane, farmers working in the farms, and more.
Whereas the customs and rituals followed by Sri Lankans to celebrate Pongal are the same as in India, the Sri Lankans call it the festival of the First Rice. Rice is both a staple food and an inheritance in which deities figure prominently, and hence the importance of rice is stronger.
The festival is celebrated over two days in Sri Lanka. The first day is devoted to preparing pongal by boiling milk in a pot alogn with rice, jaggery and the syrup extracted from crushed sugar cane. This sweet rice pudding is offered first to the Sun God, and is then eaten at the end of a family festive meal. The second day is dedicated to the oxen and cattle that help farmers in the rice fields. It is called Mattu (cattle) Pongal. The animals are bathed and decorated with straw garlands hung around their necks and horns.
Sri Lanka Post
(http://philateli.blogspot.in/2015/01/)
January - Tamil Heritage Month in Canada
Following the announcement in 2016 of making January the Tamil Heritage Month in Canada, last year, the Prime Minister of Canada, Justin Trudeau, encouraged his fellow country people to "reflect on the strong heritage of Canada's Tamil community", asserting, "Our nation is stronger and richer because of the contributions of Tamil-Canadians."
The Indian Express reported that from just around 150 in 1983, the Tamil diaspora has grown manifold to an estimated 3 lakh plus at present. Salma Zahid MP, Scarborough Centre. "Theirs is a community that has faced tremendous challenges, and like so many others, have come to Canada as a land of opportunity and new beginnings... It is time. Canadians owe much to the contributions of the Tamil community to our economic and social prosperity. I am proud to stand in support of making next January, and every January, Tamil heritage month."
What's more? Patrick Brown, leader of the Progressive Conservative Party dressed up in the traditional veshti to wish the Tamil community in Canada. Here are some beautiful images from Pongal celebrations in Canada that you must-see!
Justin Trudeau
Happy Thai Pongal to Tamils celebrating! Joyeux Thaï Pongal aux tamouls qui célèbrent! Iniya Pongal Nalvazhthukkal: pic.twitter.com/AT8YE4t3AB

— Justin Trudeau (@JustinTrudeau) January 14, 2017
Tamil Diaspora
Canada declares January as Tamil Heritage Month
Statement by the Prime Minister of Canada on Thai Pongal
Tamil Canadians 
Tamil celebrate the Thai Pongal harvest festival at Hindu temple in Scarborough, Ontario, Canada
A blog by an NRI residing in the US, Authentic Journeys, tells us more about happenings in places with smaller Indian communities.
Where large cities exist, and the Non-Resident Indian (NRI) population is large, it is possible to have a Tamil Sangam and other 'regional Indian sangams' like Telugu, Malayalee, Kannada, Marati and many others. However, in smaller communities with less than 1,000 families (a guess), a more pan-Indian approach to celebrating is the norm. Having experienced living in such a community, every January around Pongal, about 150 families would host a 'Winter Potluck Meet and Greet.' The purpose of this event was three fold: 
To provide a platform for new community members to be introduced to the established community members
To celebrate and observe the major holidays of January- New Year, Bhogi, Pongal, Makar Sankranti, Lohri and Republic Day, and 
To enjoy a tasty meal. 
http://blog.authenticjourneys.info/2015/01/nri-pongal-celebrations-in-us-and-beyond.html
Wow! Pongal Pots and Kolam in Australia
There is a strong element of inclusivity from officials in various countries with large Tamil communities. Last year, the New South Wales State Parliament hosted the Tamil Arts and Culture Association's Pongal festivities.
Not only did the Indian community women wear Kanjivarams and south silk sarees, Australian women members were seen in sarees too. Indian décor, nadaswaram music, banana leaves, sugar cane sticks, mango leaves, kolam, performance of the traditional Kavadi Chindu in Bharatanatyam form, and the traditional Pongal pot – added to the beautiful celebrations.
And here's how Queensland is celebrating Pongal this year. The Thaai Tamil School, Queensland Tamil Mandram and Australia Tamil Arts along with the Tamil community will be hosting a Pongal Festival. The activities and events include: fun rides, authentic food stalls and free traditional sweets, magic shows, multi-cultural events, DJ, cooking demo, kolam (rangoli, floor design art) and painting competitions, tug-of-war, traditional sports and more.
Tamil Arts and Culture Association's Pongal

New South Wales State Parliament playing host to the Tamil Arts and Culture Association's (TACA) Pongal festivities.

http://www.indianlink.com.au/a-pongal-party/
Pongal Festival Queensland

https://www.facebook.com/events/785381595002693/

What's Happening in the Middle East?
Tamilians in the Middle East – Dubai, Bahrain, Qatar, and Oman celebrate their harvest festival with a lot of fervour. Festivities are held on a grand scale in Oman and Dubai as well. Bahrain and Qatar, home to thousands of professional workers, have Tamil associations and organizations that come together to celebrate Pongal. UAE and Kuwait too celebrate Pongal on a grand scale.
Pongal in South Africa, Seychelles, and Mauritius. Why and how?
Tamilians arrived in Mauritius in 1727 to work in sugarcane plantations. Reunion, an island in the Indian Ocean, a French colony had Tamilian settlements in the 1848 – labour from Pondicherry and Karaikal that were French territories. The history of Taminians in Seychelles spans about 230 years. In South Africa, Tamil migrations began in 1860.
Celebrating their culture and tradition comes from a sense of Tamil renaissance for Tamilians living in these countries. With a large number of Hindu temples spread across these countries, Pongal is celebrated in a traditional manner. Over the years, a number of cultural organizations have been formed by the Tamilians, creating a close community.  Coolie Doctor, an autobiography of a first generation Indian South African who defied all odds and society norms to go to Edinburg to study medicine, and returned to practice in South Africa, beautifully shares details of their Pongal celebrations in South Africa. Read the e-version here.
Beautiful, and Everywhere
The list of countries that are embracing and celebrating this harvest festival is steadily growing. Whereas, earlier it was mostly the South East Asian countries such as Indonesia, Malaysia, Myanmar and Singapore, that were celebrating Pongal owing to the considerable population of Tamilians, in the recent years countries in Europe and states in the US have recognized and celebrated the festival.
Be it fun and fair events, quiet pujas and adhering to rituals, all in all, Pongal celebrations take place differently in different countries, but with the same sentiments – of celebrating Tamilian culture, heritage and honoring tradition. Known by different names in different parts of the country: Uttarayan in Gujarat, Lohri in Punjab, Makar Sankranti in the Gangetic belt, Maghi in Haryana, Himachal Pradesh and Punjab, and Bihu in Assam, the fervour and zeal for the festival is the same.
Back here in Chennai, on January 14, it is time. Everyone would be waking up as the sun rises, getting ready, freshly showered and dressed up for the morning Pongal puja. Designing rangolis, cooking pongal and decked up in the best new clothes. The smell of incense sticks would engulf the smell of morning mist, soon to be taken over by the flavours of sweet and salty pongal, cattle being bathed, verandahs washed and rangolis designed, everything and everyone is hurtling towards making Pongal special this year.
We would love to read and see images of your Pongal celebrations.
Would you like to share with us stories and images of how you celebrated Pongal in your country? Do write to us.
Happy Pongal to all our supporters, friends, buyers, and well-wishers. We wish you all a special Pongal with your friends and family.