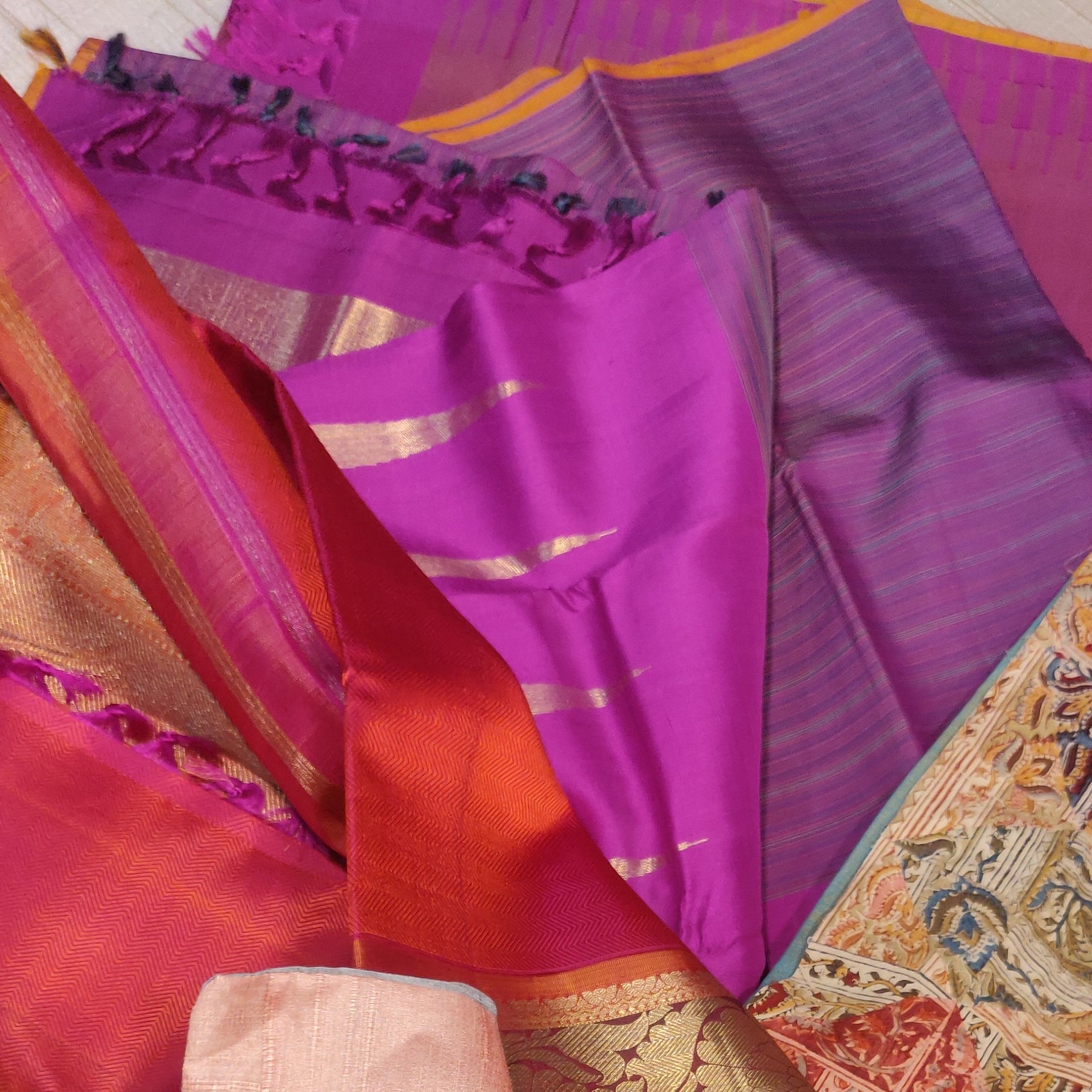 The Confluence of Aesthetics and Design
It takes creativity and a fiery imagination to reinvent something. An undying passion enhances the process of creating unusual and quirky pieces that are sometimes far more interesting than the original. And when you have a meeting of minds and someone lends a helping hand, the entire effort just gets easier and seamless…
Sarangi has chosen to collaborate with Kambli to reuse, reimagine, reinvent, and repurpose. Together, we have innovated and created visual delights that are not just a treat to the eyes but also useful additions to the home. Upcycled products look good, they are good for the world and attractive to consumers. When we chanced upon Kamala Murali's work, we were impressed with her design sensibility and the chemistry was instant!
At Sarangi, we had some saris that had weathered with time, which is quite natural for a brand of 10 years. These sarees were painstakingly and lovingly woven by weavers. Impacted by time, they sat on the shelf, but they didn't have to be shelved. We knew we could breathe life into these sarees and reinvent them into new avatars. We ideated together with Kamala to find the best way to repurpose these textiles.
Kambli is the brainchild of Kamala Murali, a Chennai based textile designer and writer. She graduated in Textile Design from Srishti Institute of Art, Design & Technology, Bangalore, and went on to pursue her Masters in Design Studies at Parsons, The new School for Design in New York. She recently launched her own textile design practice, and fondly called it "Kambli" – the word for quilt or blanket in Tamil!
Kamala specializes in upcycling fabrics and reimagines them to create attractive products. Her forte lies in exploring the potential of remnant, unused and surplus fabrics, employing traditional techniques of patchwork, quilting and appliqué to design textile accessories for the contemporary home. She is inspired by Indian and Eastern histories of object-making and craftsmanship in textiles. Together, we discovered, sky is the limit!
Sarangi & Kambli joined hands to create and design contemporary and stylish home accessories by re-energizing traditional motifs and patterns of the Kanjivaram silk heritage, with almost negligible waste. We pride ourselves at having retained Kanjivaram motifs and temple pallus / borders, using the jewel tones of sumptuous silks to lend an air of vibrant festivity.  We have worked around the colours and weaves of the fabric to create magic.
Our vivid patchwork cushion covers in pure silk rub shoulders with alluring home accessories. With an eye on aesthetics and design, we have lovingly crafted a mesmerizing array of sheer temptation in a resplendent palette to brighten your home. Our designs extend far beyond the product. Exquisite hand embroidery rubs shoulders with intricate quilting, lustrous motifs and layered corners.
Inspired by Kantha work and Godhari quilts, we have also scanned the horizon for Japanese Boro technique and Korean jogakbos. We have used contemporary block designs and a range of techniques, from the traditional to contemporary applique, quilting, embroidery, panelling and bold patchwork. Our upcycled products are a value-addition to contemporary homes, as also, sought after, guilt-free gifts.
The meaningful bonding between Sarangi & Kambli explores the potential of creative reuse, and is a confluence of aesthetics and design. We have not just transformed unused fabric and textiles, but also elevated them to create luxurious masterpieces. Our infinite range of products are distinguished the fact that they are one of a kind.  What lies at the heart of our efforts is a deep respect for traditional heritage and heirloom products.