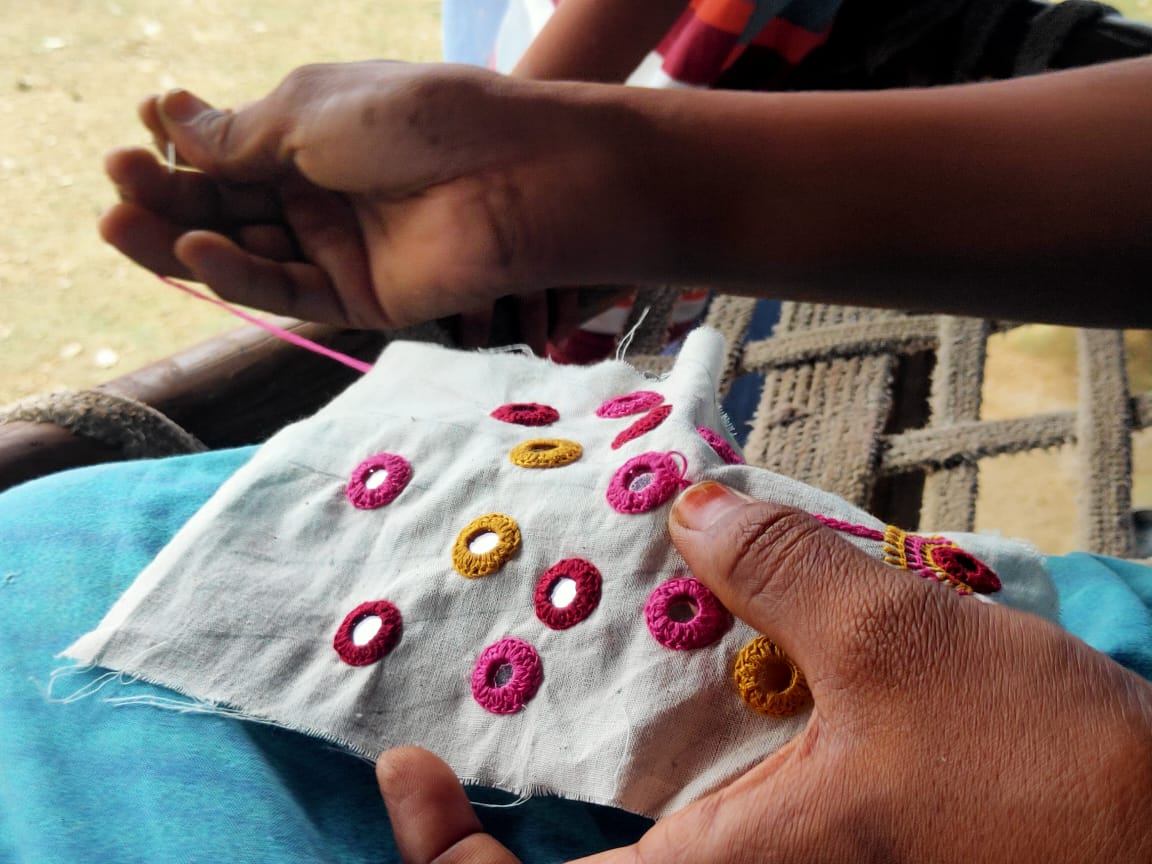 The Association with Lambadi Women Artisans
Aditi Jain, a textile designer, and Swami of Kaskom had jointly raised funds for artisans during the early days of the pandemic.
V. Swaminathan founded Kaskom, an initiative to revive the indigenous cotton varieties and its cultivation across India.
Aditi is the Design Head of Sarangi. To read more about her and her work: https://aditijain.com/about/
One of the artisan groups they had supported is Buriya, an NGO of women artisans of the Lambadi tribe in Tiruvannamalai, Tamil Nadu. Aditi had seen some of their work at their stall at an exhibition organised by Crafts Council of India in February this year. While realising that donations in the form of money and materials does help provide emergency relief, it was clear that only by having continuous embroidery projects that they could sustain themselves on a regular basis. Also, that the artisans themselves were seeking work rather than charity.
Read about the fund-raising project: https://aditijain.com/work/raising-funds-for-artisans/
Aditi worked with them over the next three months to understand their embroidery styles and colour palette. Some rudimentary market research with friends and family members led to the idea that products for the home, such as cushion covers and torans, are likely to be constantly in demand. This means that we are closer to the possibility of providing continuous work to the artisans.
After some trials and going back and forth with embroidery samples (and plenty of WhatsApp messages!) some designs have been developed. They have been listed for sale in Sarangi's website: https://www.sarangithestore.com/pages/search-results-page?q=buriya
We hope that this product category will grow in range in the coming years.
____________________________________________
Here are some behind-the-scenes for you:
We started with recreating their existing design onto our handwoven fabric. This way we were able to understand how to work together.
We have this beautiful wool-jute fabric with a very interesting texture and feel. We adapted one of Buriya's traditional designs for this. 
They made a sample and we worked over WhatsApp to figure out the size of the motif and the colours. 
We love seeing images of the artisans proudly holding up their work.
We asked the group to experiment with the various stitches and techniques. This way we got to see their skills and the variety they come with. They shared with us the yarn shades that are available with them and we worked within those limits. We loved the playfulness of the blue fabric, the stripes are woven with slub yarns adding to the texture. We wanted to create something lively for a fun home, children's room or an outdoor setting. 
It's intriguing how easily and effortlessly they embroider without any fancy tools.
Some digital renders were made to communicate the ideas with them.
A sample was made  to first see how the colours would look:
We then slowly saw the final piece come to life!
For the Toran we made an initial sketch of what we wanted it to look like. We gave a basic framework, the stitches and the placement was left to them. 
These were the colours we decided on. 
Here are the initial sampling done by the group.
They would keep updating us with the progress and we would discuss changes.
The artisan hand-embroidering creating intricate patterns for the Toran.
Here are the three placed together.
We felt the left-most one was looking out of place. We changed the pattern and made a new sample.
These were the final patterns that we decided on.
Vennilla Akka holding up the finished Toran for us to see with her smile so bright!
A beautiful handmade Toran is sure to make a lasting impression on your guests.