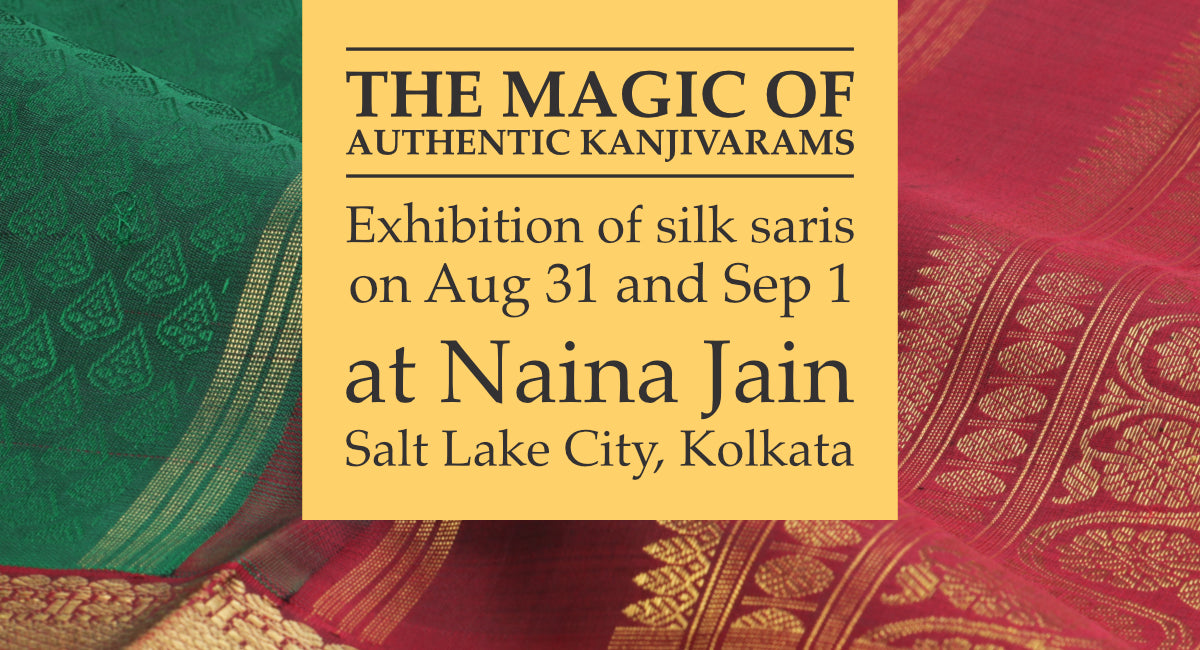 Sarangi presents 'The Magic of Kanjivarams' to silk saree lovers in Kolkata
FOR IMMEDIATE RELEASE
Contact:
Akshat Jain
Manager
Sarangi - the Kanjivaram sari store
138 Luz Church Road,
Alwarpet
Chennai 600004
INDIA.
Mobile : +919600067715
Email : biz@sarangithestore.com
Sarangi presents 'The Magic of Kanjivarams' to silk saree lovers in Kolkata
Kolkata, India
Friday, August 3rd 2018
An exhibition of exclusive, handwoven kanjivaram silk sarees in Kolkata by Sarangi® of Chennai.
An exhibition of handwoven kanjivaram silk sarees to be held at Naina Jain, Salt Lake City, Kolkata on Friday, Aug 31st and Saturday, Sept 1st between 11am and 7pm. Termed as the 'The Magic of Authentic Kanjivarams', the exhibition is hosted by Sarangi of Chennai.
The brand's contemporary offerings appeal to a wide audience. They offer silk sarees for four occasions - Bridal, Festive, Evening and Boardroom wear. "Our aim is to remove as many barriers that come between you and the feeling of being confident and enchanting in a Kanjivaram sari." says Prabodh Jain, Design Director of Sarangi.

About Sarangi
Founded by Prabodh Jain in 2009, Sarangi is a Kanjivaram sari boutique from Chennai. The brand 
offers an exclusive range of finely curated Kanjivaram silk saris to a discerning audience in India and 15 more countries. 
Sarangi celebrates the spirit of the Kanjivaram with a range of saris that are elegant, beautiful and always special. Never blatanly modern, each sari is designed keeping the aesthetics and sensibility of The Kanjivaram in mind.
To luxuriate in the magic of Kanjivarams, please visit Naina Jain, CD-297, Jain Niwas, Salt Lake, Kolkata, West Bengal 700064 on August 31st and September 1st 2018 between 11am to 7pm.
Rasvihar, a special brand of fine jewelry will also be on display. The signature collections of Rasvihar include Leaf series inspired by the simple beauty of a leaf, Lace series inspired by ancient art of lace-making and Navratna series made in gold and the nine precious gems - diamonds, rubies, emeralds, pearls, blue sapphires, corals, yellow sapphires, cats' eyes & garnets.

To know more about Sarangi, visit https://www.sarangithestore.com/.

For more information on this topic, please call Akshat Jain +91 9600067715 or email biz@sarangithestore.com for more information.