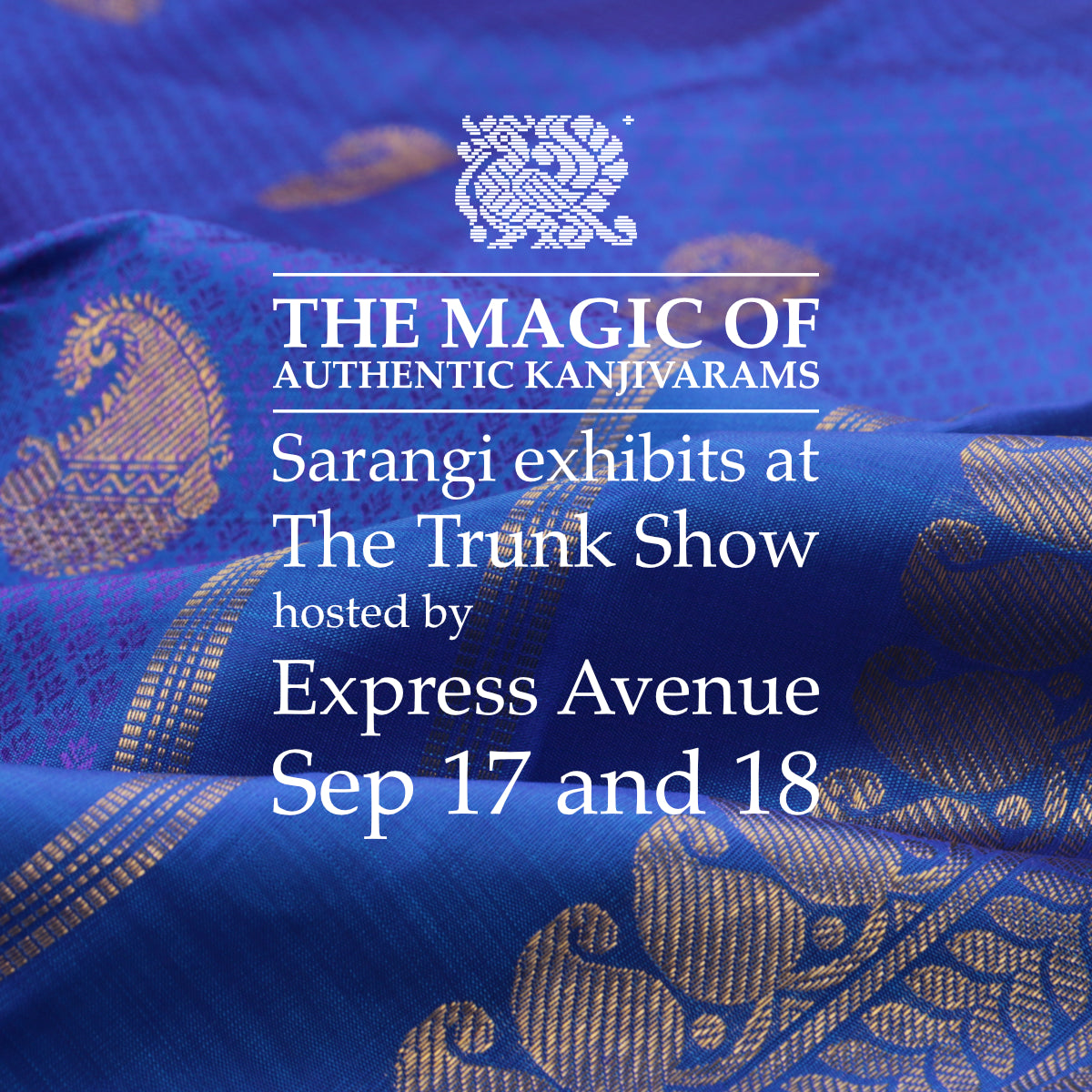 Sarangi to exhibit festive Kanjivarams at The Trunk Show by Express Avenue
FOR IMMEDIATE RELEASE
Contact:
Akshat Jain
Manager
Sarangi - the Kanjivaram sari store
138 Luz Church Road,
Alwarpet
Chennai 600004
INDIA.
Mobile : +919600067715
Email : biz@sarangithestore.com
Sarangi to exhibit Kanjivaram sarees at The Trunk Show by Express Avenue
Chennai, India
Thursday, August 23rd 2018
An exhibit of exclusive, handwoven kanjivaram silk sarees by Sarangi at The Trunk Show by Express Avenue
Sarangi, the Kanjivaram sari store is going to exhibit an exclusive collection of Kanjivaram silk sarees at The Trunk Show Diwali Edition to be held at Express Avenue Mall
. Termed as 'The Magic of Authentic Kanjivarams', the exhibit is going to be held
 on Monday, the 17th of September, and Tuesday, the 18th of September, 2018.
Curated specially for the upcoming festive occasions, a wide range of silk sarees for wedding and festive wear would be on display. 
"Our aim is to provide customers the best ambience and space for saree shopping. It is therefore, natural for us to be part of one of Chennai's leading festive exhibitions." says Prabodh Jain, CEO of Sarangi.
About The Trunk Show
A one-of-a-kind premium trunk, The Trunk Show Diwali Edition by Express Avenue will house handpicked exhibitors from across the country and showcase their collections.
About Sarangi
Founded by Prabodh Jain in 2009, Sarangi is a Kanjivaram sari boutique. The brand offers an exclusive range of finely curated Kanjivaram silk saris to a discerning audience in India and 15 more countries.
Sarangi celebrates the spirit of the Kanjivaram with a range of saris that are elegant, beautiful and always special. Never blatanly modern, each sari is designed keeping the aesthetics and sensibility of The Kanjivaram in mind.
To revel in the magic of Kanjivarams, please visit us at Express Avenue Mall, Chennai on the 17th and 18th of September, 2018.
To know more about Sarangi, visit https://www.sarangithestore.com/.

For more information on this topic, please call Akshat Jain +91 9600067715 or email biz@sarangithestore.com for more information.