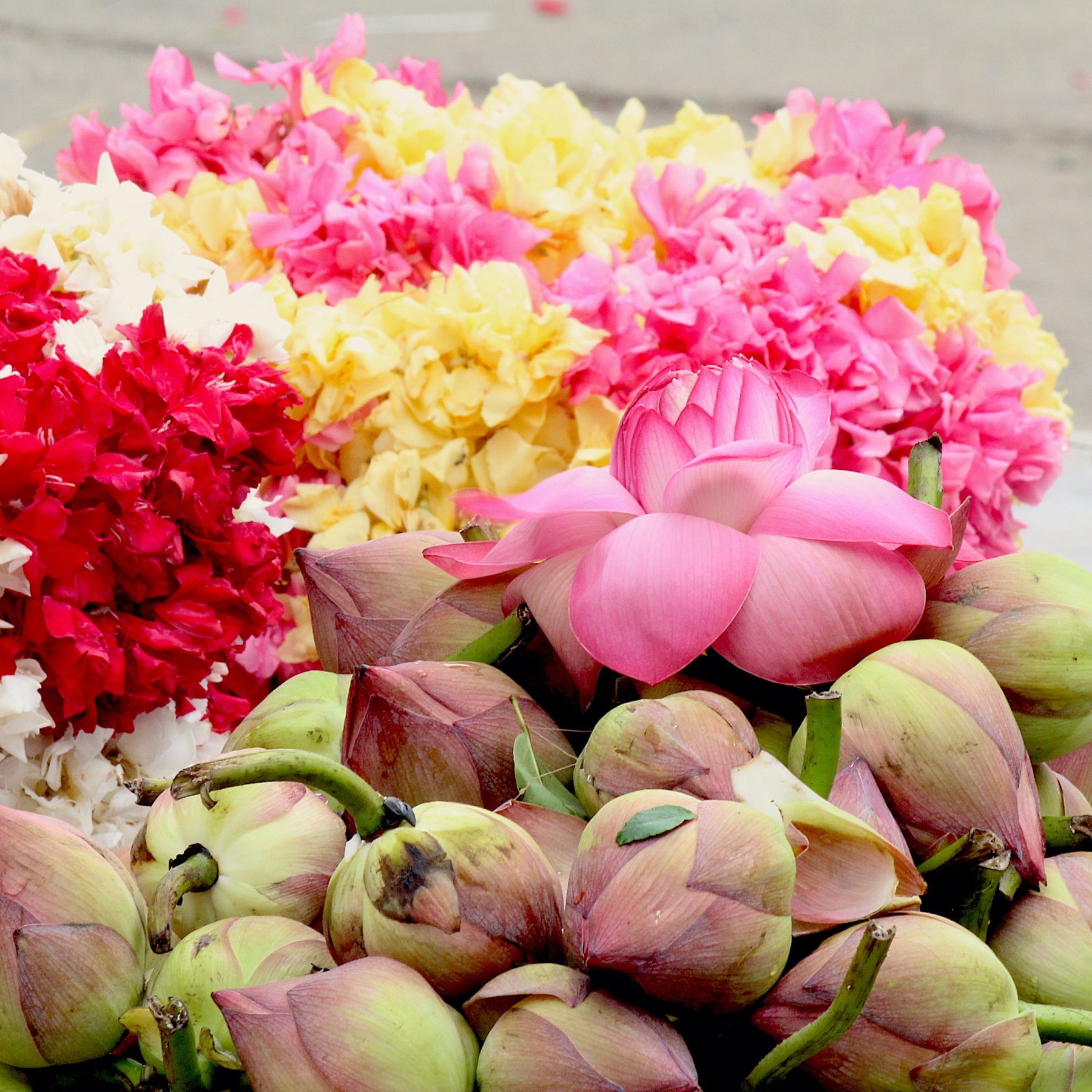 Flowers, Blooms, and Looms… a Visit to Kanchipuram Flower Market
Here, a heap of chrysanthemums, there a tub full of jasmines. Here, a bucket full of red roses, there a woman making garlands of marigolds. Meanwhile, a flower seller weighs a bag full of lotus flowers. Pookadai Chetram, as it is known in Tamil, the flower market in Kanchipuram is more than an island of colours and a burst of fresh fragrance. It is a complex of connections of people, a network of labour and farming, the flowers too, find different purposes once they leave the market – religious, personal or commercial.
Flowers – religious significance
Flowers have a special significance in religious prayers and practices. As mythologist and writer, Devdutt Pattnaik explains, "The word 'puja' probably comes from the word 'pu' meaning flowers in Tamil." The generally accepted hypothesis is that the cattle herding nomads who dominated North India around 1500 BCE (formerly BC), who called themselves the Aryas, preferred invoking divinity through the ritual of yagna where ghee was poured into the fire, accompanied by the chanting of hymns, to invoke God. The settled agricultural communities of the Indian subcontinent, conventionally identified as Dravidians, preferred making offerings of flowers and fruit and incense to gods and goddesses. What was older, what was preferred, is not known. But by 500 CE (formerly AD), the yagna practices had died out, mainly because of Buddhist influence, and the puja became the cornerstone of Hindu ritual practices, elaborated greatly in temple texts known as Agamas. (Excerpt from God as Guest)
Flowers – temple offerings
Kanchipuram is one of the seven holiest cities in India with hundreds of temples. There is a temple in each and every street of Kanchipuram. Some of the temples are Ekambareswarar temple, Kailasanathar temple, Muktheeswarar temple, Kumarakottam temple, Varadharaja Perumal temple, Tiru Parameswara Vinnagaram, and Kanchi Matha among others. The cities relation to flowers is thus, special and of great significance, as visitors to the temple offer flowers at all the temples. It is no surprise then that the famous kanjeevaram sarees that are created in Kanchipuram, have designs and motifs inspired from these temples. Flower motifs make way through silk and gold threads onto the precious kanjeevaram sarees. Lotus and jasmine are often seen in kanjeevaram sarees.
The flower market – a spectacle
From 5 am onwards, as the sun rises, slowly, the market starts filling up with more flower sellers and buyers. The flowers are sourced from a number of farms in and around Kanchipuram. Some of the farms are known for organic farming practices. The colourful and bustling activities in the flower market, engulfed with fragrances, is an interesting spectacle for those who haven't experienced it elsewhere.
Pu : http://devdutt.com/articles/indian-mythology/god-as-guest.html