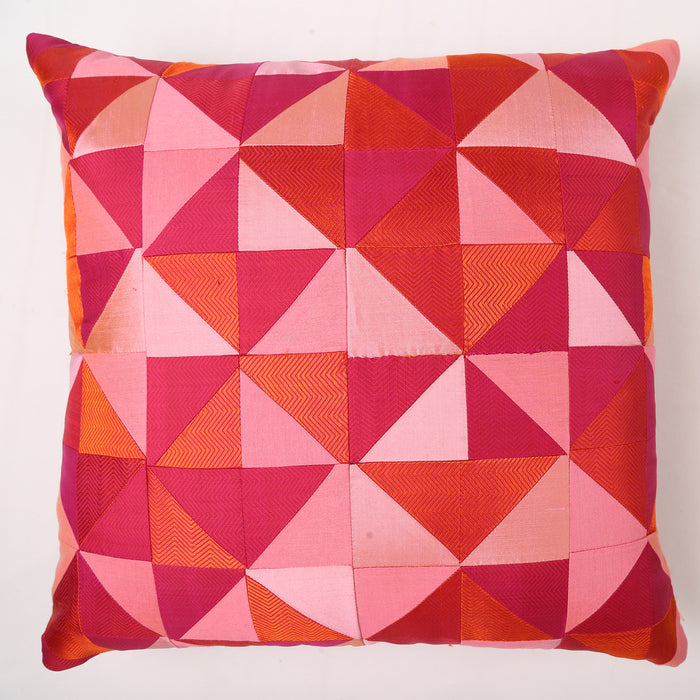 Sarangi x Kambli Studio : Patchwork Silk Cushion Cover - 1505382PIN
Save

₹ 1,005.00
Original price
₹ 3,350.00
Please note : Filler is not included
The playful interplay of multicoloured silk triangles in shades of cherry blossom, strawberry, tangerine and pomegranate red will infuse your living space with sprightly hues. Lustrous silk patches are carefully chosen, set and sewn together to create a smart aesthetic. This cushion cover with a vintage patchwork face comes with a plain neon pink reverse. 
Sarangi and Kambli studio have come together to create magic from end pieces of lustrous silk. These exquisite new avatars of cushion covers at unbeatable prices echo our mantra and firm conviction of recycle, reuse, repair, reduce waste, providing a new lease of life to surplus silk whilst creating contemporary styles to beautify homes.
| | |
| --- | --- |
| Ships in | 2 Days |
| Exchange | We're sorry! No exchange on this product. |
| Body Color | Pink |
| Length | 16 Inches |
| Height | 16 Inches |
| Wash Care | Dry Wash |
At Sarangi we curate sarees, accessories and fabrics having contemporary design aesthetics and deep-rooted artisanal values, from around the country.
When you shop at Sarangi, you express your preference for "slow fashion" as opposed to fast fashion; you show that you lean towards "classics" over trendy designs; and also make evidence of your fine taste. Sarangi is created with you in mind.