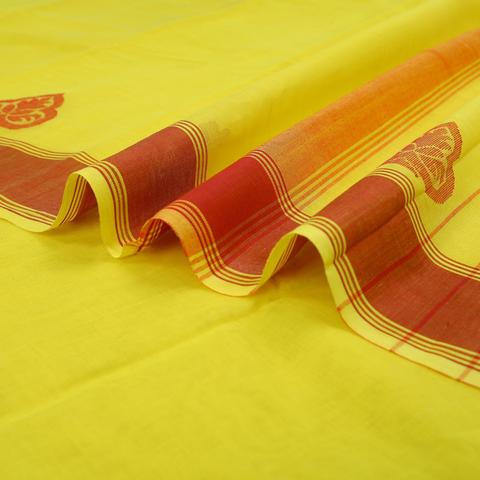 Sarangi Handwoven Kanchi Cotton Sari - 1272925YEL
Save

₹ 996.00
Original price
₹ 2,490.00
Description

Kanchi Cotton

Sarangi
| | |
| --- | --- |
| Pattern | Kanjivaram Sari |
| Length | 5.50 m |
| Width | 48 Inch |
| Weight | 326 gms |
| Body Color | Yellow |
| Border Color Top | Brown |
| Border Color Bottom | Brown |
| Pallu Color | Yellow |
| Blouse Color | Yellow |
| Border Width Top | 3.5 Inch |
| Border Width Bottom | 3.5 Inch |
| Blouse Fabric | Attached |
| Blouse Width | 75 cm |
| Zari Grade | No Zari (Threadwork only) |
| Yarn | Cotton |
| Wash Care | Gentle Handwash |
Blessed by the unique confluence of history, geography and culture of Kanchipuram, the city of a thousand temples, the master weavers of this land elevated the handwoven sari to high art. Soft and relatively lightweight, these sarees feature traditional motifs, such as rudraksha and annam, and bright, contrast colours.
At Sarangi we curate sarees, accessories and fabrics having contemporary design aesthetics and deep-rooted artisanal values, from around the country.
When you shop at Sarangi, you express your preference for "slow fashion" as opposed to fast fashion; you show that you lean towards "classics" over trendy designs; and also make evidence of your fine taste. Sarangi is created with you in mind.