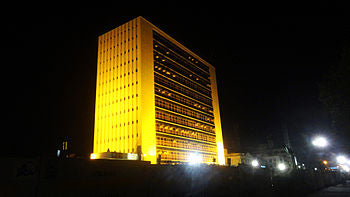 Temple Hopping or Saree Shopping, Don't Miss These Impressive Buildings in Chennai
Chennai's temples and its architecture has for long compelled visitors and tourists to make regular pilgrimages. What gets missed out are the other magnificent and impressive buildings across the city.
The next time around you are in Chennai, whether temple hopping or saree shopping, check these in your itinerary. If your agenda is saree shopping, a visit to Sarangi would be more than just a retail treat. The store is housed in a rustic bungalow that has become a landmark of sorts for saree lovers.
High Court Complex
When you're looking at the Madras High Court, its bulbous dome, pointed arches and open pavilions, the seeds of Indo-Saracenic architecture are palpable. Not only is it impressive because of it visually attractive, it is believed to be the second largest judicial building in the world.
St. Andrews Church
One of the oldest, British era buildings in Chennai, it is supposedly the most expensive architecture during the British rule. With the Neo-Classical and Palladian style of architectural features, the building exudes a calm and peace with all white walls.
LIC Building
The first skyscraper of Chennai, the LIC building impresses in its height and size. Not only the first tallest, it is also the first building to have used the pile technique of construction. A minimalist structure with glass windows, it is one of the most popular landmarks in the city.
Other buildings in the city
The Government Museum or Egmore Museum
The Victoria Public Hall
The Ripon Building
Fort St George
Senate House
Here, a dome structure, there a pointed arch. Here, a corporate glass skyscraper, there a fancy gleaming mall building… Chennai's architectural landmarks are many.